I will say it 1 time only "no weapon formed against my body shall prosper"❤🙏🏾❤🙏🏾❤🙏🏾 Studies prove vegans have a better chance than meat eaters when it comes to fighting off this virus…
Vegan Chili
PREP TIME:
0 

HOURS 

15 

MINS
TOTAL TIME:
1 

HOUR 

15 

MINS
kosher salt "your preference"
Freshly ground black pepper "your preference"
1
(12-oz) bottle Mexican beer such as Modelo
1
large sweet potato, cut into 1/2″ cubes
1
(15-oz) can black beans, drained and rinsed
1
(15-oz) can pinto beans, drained and rinsed
1
(28-oz) can diced fire-roasted tomatoes
DIRECTIONS
In a large pot, heat olive oil over medium heat. Add peppers, onions and celery and cook until softened, 3 to 4 minutes. Add garlic, chili powder, paprika, cumin, and oregano and sauté until fragrant, 1 to 2 minutes more. Season with salt and pepper.
Add beer and cook until it has reduced by half, about 6 to 8 minutes, stirring occasionally. Add sweet potato, black and pinto beans, tomatoes and vegetable broth. Stir and bring to a boil, then reduce to a simmer and cook until slightly reduced and sweet potatoes are cooked through, 30 to 35 minutes.
Serve with the toppings of your choice.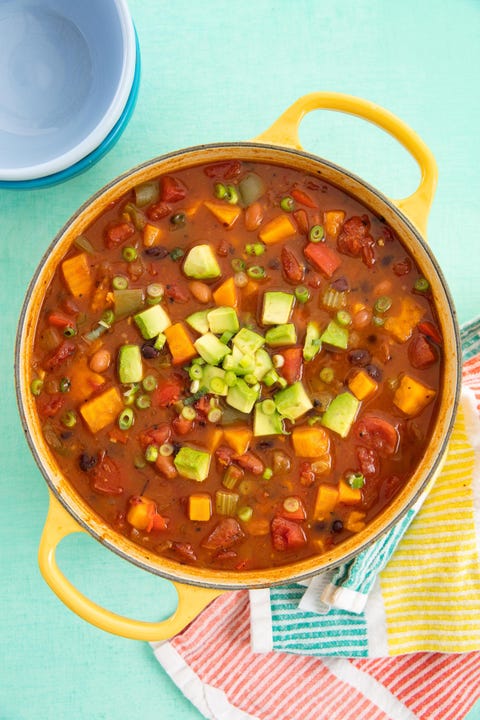 Angel hair vegan pasta
PREP TIME:
0 

HOURS 

15 

MINS
TOTAL TIME:
0 

HOURS 

35 

MINS
1 pt. cherry tomatoes (yellow and red)
1 (8-oz.) package baby bella mushrooms
1 15-oz. can artichoke hearts, drained and roughly chopped
Freshly ground black pepper
3/4 c. grated Parmesan, plus more for garnish
Sliced fresh basil, for serving
DIRECTIONS
Preheat oven to 400°. In a large pot of salted boiling water, cook pasta until al dente. Drain, reserving 1 cup pasta water, and return to pot.
On a large baking sheet, toss broccoli, tomatoes, mushrooms, and artichoke hearts with oil and season with garlic powder, salt, and pepper. Roast until tender and caramelized, stirring once, 15 to 20 minutes.
Add vegetables to pot along with Parmesan and 1/2 pasta water and, over low heat, stir vigorously to create a sauce. (Add more pasta water until you reach your desired consistency.)
Garnish with Parmesan and basil before serving.
INGREDIENTS
2 tbsp. 
extra-virgin olive oil
1 
medium yellow onion, chopped
3 
medium carrots, chopped
1 
medium zucchini, chopped
Freshly ground black pepper
1 
24-oz. jar RAGÚ Old World Style Traditional Sauce
1 qt. 
low-sodium vegetable broth
1 lb. 
asparagus, ends trimmed and cut into 1" pieces
3/4 c. 
ditalini or other small pasta
Freshly grated Parmesan, for garnish
Freshly chopped parsley, for garnish
DIRECTIONS
In a large pot over medium heat, heat oil. Add onion and carrots and cook until slightly softened, 5 to 7 minutes.
Add zucchini and cook 2 to 3 minutes more. Season with salt and pepper, then add RAGÚ Old World Style Traditional Sauce, broth, and water. Bring to a boil on high, then reduce heat to medium-low and simmer.
Stir in asparagus and pasta and cook until liquid is slightly reduced and pasta is al dente, about 12 minutes.
In the last few minutes of cooking, add peas. Remove from heat and stir in lemon juice. Garnish bowls with Parmesan and parsley.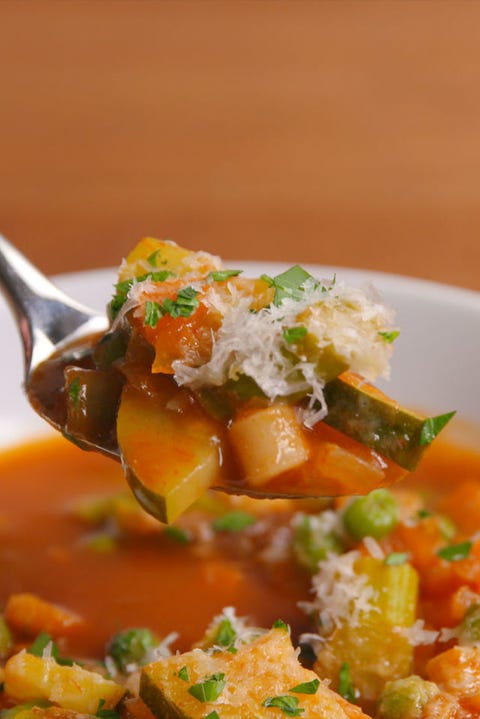 Avocado salad
PREP TIME:
0 

HOURS 

10 

MINS
TOTAL TIME:
0 

HOURS 

10 

MINS
INGREDIENTS
1/4 c. 
extra-virgin olive oil
Freshly ground black pepper
1 
pint cherry tomatoes, halved
1/2 c. 
black beans, drained and rinsed
1/2 
medium red onion, finely chopped
2 tbsp. 
cilantro, chopped
DIRECTIONS
In a small bowl, make dressing: Whisk together olive oil, lime juice, and cumin. Season with salt and pepper. Set aside.
In a large bowl, combine remaining ingredients. Toss with dressing until well combined.
Crispy Buffalo Cauliflower Bites
Ingredients
⅔ cup brown rice flour
2 tablespoons almond flour
1 tablespoon tomato paste
2 teaspoons garlic powder
2 teaspoons onion powder
2 teaspoons smoked paprika
1 teaspoon dried parsley
1 head cauliflower, cut into 2-inch florets
⅓ cup Frank's hot sauce or barbecue sauce
Serve with a ranch dip
Instructions
Preheat oven to 450°F. Line 2 baking sheets with parchment paper.
Combine the brown rice flour, almond flour, tomato paste, garlic powder, onion powder, paprika, parsley, and ⅔ cup of water in a blender. Puree until the batter is smooth and thick. Transfer to a bowl and add the cauliflower florets; toss until the florets are well coated with the batter.
Arrange the cauliflower in a single layer on the prepared baking sheets, making sure that the florets do not touch one another. Bake for 20 to 25 minutes, until crisp on the edges. They will not get crispy all over while still in the oven.
Remove from the heat and let stand for 3 minutes to crisp up a bit more. Transfer to a bowl and drizzle with the sauce. Serve immediately.
Tacos del' Hungary
Ready In: Serves 2″
INGREDIENTS
FOR THE BLACK BEANS
1 (15 oz) can black beans, drained and rinsed
FOR THE MUSHROOM FILLING
6 cloves garlic, finely chopped
vegetable stock
30 button mushrooms, stemmed and chopped
2 ½ tablespoons (non-spicy) chili powder
1 ½ tablespoons paprika (plus more for tomato salad)
1 tablespoon dried minced onion
sea salt
¼ cup fresh lime juice (from about 2 limes), divided
2 ½ tablespoons natural tomato sauce
FOR THE TOMATO SALAD AND GUACAMOLE
2 tomatoes, diced
½ red onion, diced
1 handful of fresh cilantro, chopped
1 avocado
garlic powder
FOR SERVING
4 lettuce leaves
6 hard-shelled tacos
hot sauce (optional)
Instructions
Saute the garlic in a bit of vegetable stock in a saucepan over medium heat; add the chopped mushrooms and sauté, stirring occasionally, until mushrooms shrink and become chewy. Add the chili, paprika, dried minced onion, sea salt, and a couple tablespoons of fresh lime juice; stir well to combine. Add the tomato sauce and cook, stirring occasionally. Taste and add more tomato and/or spices, if desired.
Make the tomato salad: Combine the diced tomatoes, red onions, and cilantro in a bowl and squeeze some fresh lime juice over; season with paprika and sea salt to taste.
Make a quick guacamole: Mash the avocado in a separate bowl and season with sea salt, garlic powder, and lime juice to taste.
Prepare a bed of lettuce for the black beans.
Heat the taco shells. Build each taco, starting with the mushroom base, followed by the guacamole, then finish with the tomato salad on top. Drizzle with hot sauce (if using). Serve with black beans (simply heat and season as desired).
Kiddos Chickpea Nuggets
Kids go crazy for this vegan alternative to chicken nuggets. Serve our tender-on-the-inside, crispy-on-the-outside chickpea bites with ketchup and BBQ sauce for dipping, and feel free to offer hot sauce for spice-loving adults. Leftovers are great for next-day lunches too, because they taste delicious hot or cold. To prepare the nuggets in an air fryer, cook them for 15 minutes at 370 degrees F.
Ingredients
½ cup whole grain bread crumbs
2 teaspoons Italian seasoning
2 (15-ounce) cans chickpeas, drained and rinsed (3 cups)
1½ cups cooked brown rice
1 small onion, cut into 1-inch pieces (1 cup)
3 cloves garlic
1 teaspoon ground cumin
1 teaspoon turmeric
¼ cup nutritional yeast
¼ cup lime juice
¼ cup finely chopped fresh parsley
Sea salt and freshly ground black pepper
Ketchup, BBQ sauce, and/or hot sauce for dipping
Instructions
Preheat the oven to 425°F. Line a baking sheet with parchment paper.
In a small, shallow bowl, mix together the bread crumbs and Italian seasoning.
In the bowl of a food processor, combine the chickpeas, rice, onion, garlic, cumin, turmeric, nutritional yeast, lime juice, parsley, and salt and pepper to taste; pulse to a pliable mixture. (If you don't have a food processor, use a potato masher.) Mold about 2 tablespoons of the mixture into an oblong nugget, then roll the nugget in seasoned bread crumbs, and place it on the prepared baking sheet.
Repeat until all of the mixture is used. Bake for 20 minutes, then flip nuggets and bake for 20 more minutes.
Serve hot with ketchup, BBQ sauce, and/or hot sauce for dipping.
For the love of broccoli & pasta
TOTAL TIME- 30 MINS
Ingredients
12

 

oz

 

whole wheat ziti (or any pasta you like — brown rice pasta is good)

3-4

 

cups

 

broccoli florets (1 medium head)

1

 

tablespoon

 

vegan butter (or reg butter if not vegan)

4

 

garlic cloves, minced

2

 

tablespoons

 

white whole wheat (or regular whole wheat flour or all purpose gluten free flour)*

1/2

 

cup

 

vegetarian broth

1

 

cup

 

unsweetened almond milk

1/2- 3/4

 

teaspoon

 

salt

Black pepper to taste

3/4

 

cup

 

Go Veggie Vegan Grated Parmesan

Optional: 2 tablespoons nutritional yeast

To garnish: extra parmesan, chopped parsley, red pepper flakes, if desired
Instructions
Cook the pasta and broccoli in a large pot of salted water, according to directions on the package until al dente (or just slightly undercooked). Once done, drain pasta and broccoli and set aside for a few minutes while you make the sauce.

In the same pot, melt butter over medium heat. Once butter is melted, add garlic and flour and stir until flour has browned, about one more minutes.

Whisk in broth and almond milk until smooth, bring to a boil then reduce heat to medium low and simmer for 6-8 minutes until sauce thickens up. Season with salt and pepper.

Once mixture thickens, reduce heat to low and whisk in parmesan cheese. Taste and adjust seasonings as necessary (more salt or pepper or whatever spices you like!). Gently stir in the pasta and broccoli. Serve immediately. Makes 4 servings.

Garnish with extra parmesan and parsley. Enjoy!
Corona Virus kick ass smoothie
INGREDIENTS
"amounts to your taste preferences"
Spinach or kale "your preference"
Flaxseed
Frozen berries "strawberry, blueberry, raspberry"
Pineapple juice "organic"
Sea moss
Turmeric
Ginger
Dash of cinnamon
Beat root powder
Moringa powder
Bladderwrack
Vitamin C powder
Vitamin D powder
An apple slice
Optional: coconut flakes
Honey for sweetness
& A frozen banana
Use a machine that will break down your nutrients to their smallest components so your body can use every nutrient to it's best abilities keeping your immunity at its highest! An example of a nutrient extractor is a Nutri-Bullet.
Put all ingredients in a blender cup & hit go…then enjoy!
Please follow instructions when measuring out powder supplements…
it's possible to overdose cause to much of a good thing can be bad.
Healing Teas…
Chamomile
Soothes the tummy—and the soul
A mild, relaxing tea with a delicate flavor, it contains oils that relax the smooth muscles in the stomach. Three cups daily will ease indigestion, irritable bowel problems, and colitis. Choose 100% pure chamomile flowers with a strong, fresh apple aroma. Use 1 tablespoon of flowers per cup of boiling water. Take for 2 months or more for chronic problems.
Lemonbalm
Reduces anxiety and restlessness
This citrus-fresh herb helps tame tension, nervousness, and a mild case of the blues. Relax with a cup before bedtime to help you feel sleepy. Choose fresh or dried leaves that have a strong lemony mint scent. Use 1 tablespoon of leaves per cup of boiling water, and drink as needed.
Passionflower
Eases you into restful sleep
The flower, vine, and leaves contain substances that have proven, gentle sedating qualities. Recommended by herbalists as a top treatment for insomnia, it's especially helpful when sleep is disturbed by anxiety. Use 1 teaspoon of dried herb per cup of boiling water.
Peppermint
Helps banish indigestion
Fresh or dried, mint tea is a super way to ease stubborn indigestion and gas and to quell nausea and vomiting. Do not use other mints, such as spearmint, because only true peppermint contains the digestive aid menthol. Use 1 tablespoon of mint leaves (or more, according to taste) per cup of boiling water.
Rosemary
Can ward off headaches
This fragrant spice-shelf herb not only perks up roasts and poultry, it can also ward off certain kinds of stress-induced headaches. Because rosemary helps keep blood vessels dilated, it can prevent headaches caused by vasoconstriction (when blood vessels narrow). Use 1 teaspoon of dried rosemary per cup of boiling water.
Sage
Banishes night sweats
The same herb that seasons poultry stuffing can reduce or sometimes eliminate night sweats, which will help you relax and get a good night's sleep. Use 4 heaping tablespoons of dried sage in 1 cup of boiling water. Cover tightly, and steep for 4 hours or more. Strain, then drink.
Thyme
Reduces cough, bronchitis, sinus pressure
Sip savory thyme tea to help relax the bronchial spasms that trigger coughing due to colds or bronchitis. Use 2 teaspoons of dried thyme per cup of boiling water, steep for 10 minutes, and drink three times a day.
Treat everything from cancer symptoms to the common cold with easy, herbal remedies.